Review: Is the Pixel Watch good for running?
After years of rumours, Pixel Watch is finally here. Let's see if matches the high expectations.
Firstly, this is a review from sport / runner perspective, and I will focus mainly on that side of the watch and trying to answer most important question for me: can this watch provide me with accurate data and help me train.
Overview
The watch is pretty small, slick and very minimalistic, it's barely noticeable on my wrist, here are quick specs:
size: 41mm diameter, 36 grams without band
display: 1.2 inches, 450x450 pixels AMOLED, protected by gorlila glass 5
water resistance: 50M / 5ATM
price:

$349 / 379 € / £ 339 for WiFi only
$399 / 429 € / £ 379 for WiFi + LTE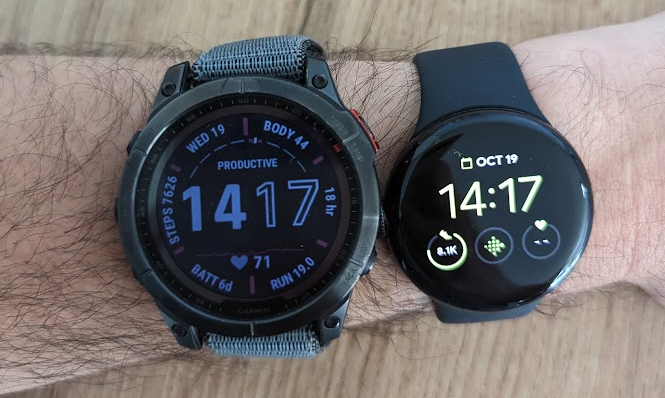 Sport and Running
Pixel Watch utilizes Fitbit for sport and exercise, it comes with 40 sports modes, like Run, Bike, Swim and a few others like Yoga and Functional training, unfortunately, there is no Triathlon yet.
The data which you can see and track on the watch during a run is quite limited, you have only 1 screen with the option to configure 4 fields with the fallowing options: distance , elapsed time, heart rate, pace, pace avg, calories burned, steps, elevation, elevation gain and active zone minutes.
If you want to see any other data-field during exercise there is a way to do that, you need to swipe right, and you can see the rest of data in a list manner, but that is kind of difficult to do when you are running. I personaly would love adding option for multiple configurable screens like Garmin or any other sport watch.
There is an option to set a goal, like distance, time or calories but not for interval training or structured workouts, I couldn't find any other application that supports this functionality. On top of that external sensors are not supported natively and you have to use an external app, at least in that case there are a few options, but more on that later.
So the watch can collect your data like GPS and HR, but is it accurate, lets's find out:
Accuracy
For accuracy testing and comparison I did a few runs with Garmin Fenix 7, a smartphone which support dual-frequency satellite and the Pixel Watch.
GPS
Interval Run
All devices seems to cut corners, but the pixel watch does not look worse than my Garmin and smartphone.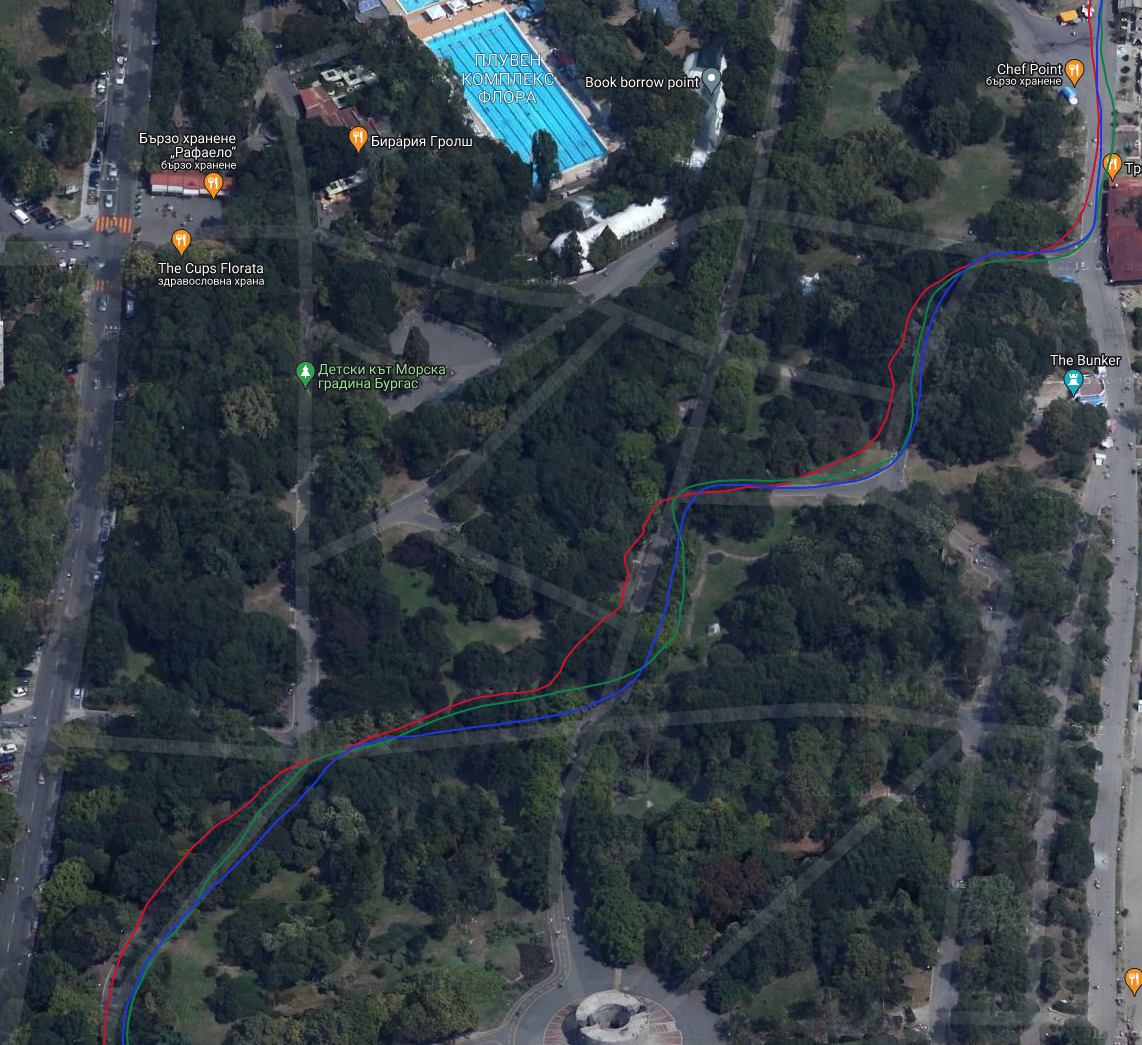 Here the pixel is the closes to the path I actually took, I did not run on the street.

My smartphone is way off, and the Garmin is showing the right path, the Pixel is between and eventily down the road, the Garmin and the Pixel aligned.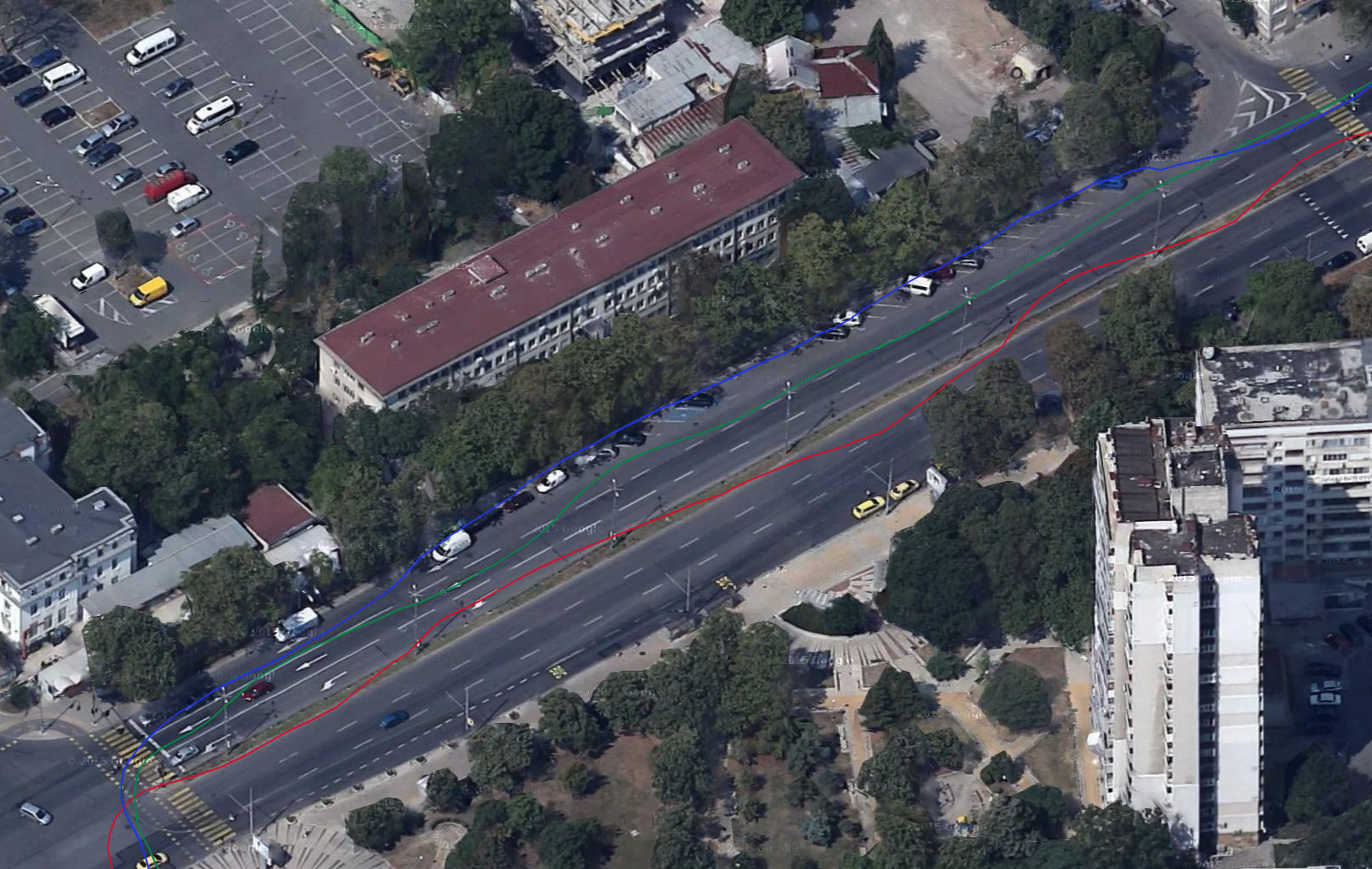 And between the buildings the Pixel is again the most accurate one.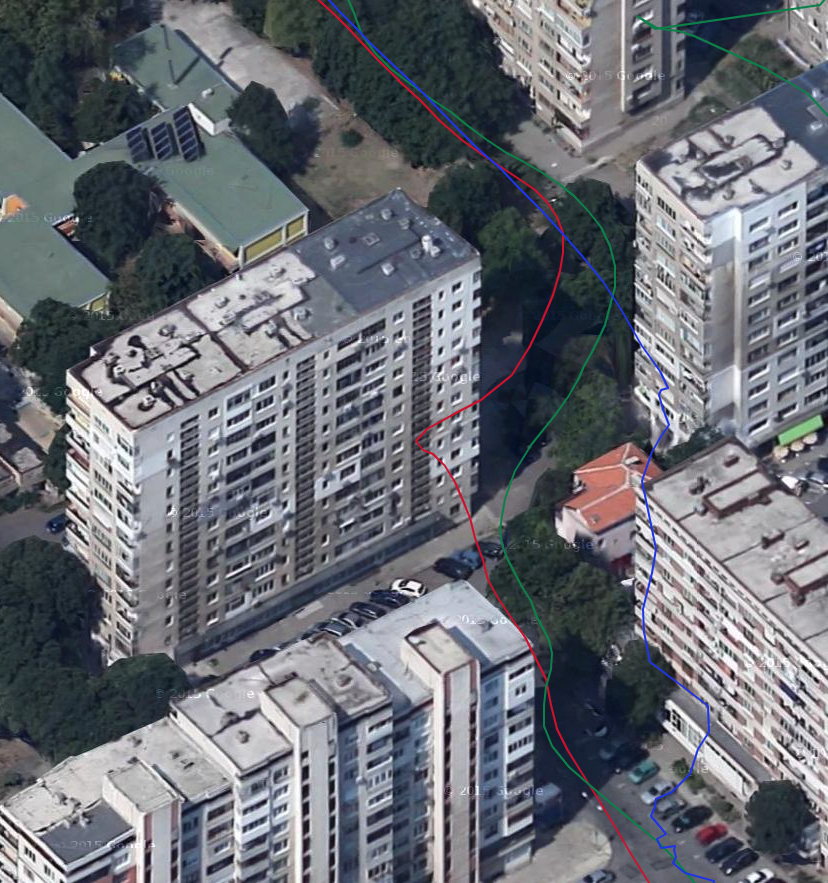 Heart rate
for that comparison I used Garmin Fenix 7 with Polar H9 chest strap.
Interval Run

Apart from the very beginning where is kind of normal for optical heart rate sensors to struggle for the first few minutes, the rest of the time it matches the chest strap. In general, I am pretty happy and even surprised with the accuracy. Obviously there are differences of few beats here and there but that's totally acceptable, the whole trend is pretty equal with my chest strap.
Long steady run

As always if you want to have better HR you need to connect external chest strap, which Pixel Watch does not support out of the box, but on that read next part.
External sensors:
As I said external sensors are not supported by Fitbit app, but you can use one of the folling apps to achieve that:
adidas Running

: can connect to Heart Rate sensor

Sporty Go!

: can connect to Stryd & Heart Rate sensor however it's not free. In my research I found that is probably the best Wear OS app for running right now, it also provides customisable data screens and can sync with Strava.
If you want to check more details about graphs and maps here are links to comparison data sets:
Other sport metrics
Here is a list of stuff that I expect from a running / sport watch:
VO2max score: yes, it's called Cardio Fitness and can be found in Fitbit's smartphone app.
Training Load and Status: no available at the moment, probably the best way is to sync your runs with 3rd party platform like TrainingPeaks.
Daily readiness: there is a functionality which tell you how ready you are for your day, but it is part of Fitbit Premium ( Google is giving you 6 months for free)
Wellbeing
on the well-being side, the pixel watch provides quite a lot of useful features, mainly via the Fitbit app:
Daily readiness score: uses your Fitbit data to assess whether you're ready to workout or should prioritize recovery, it's a score from 0-99 and takes into an account: sleep, HRV and recent activity.
Sleep tracking: I find Fitbit to have one of the best sleep tracking devices, and this seems to match my other fitbits, the watch will provide you with sleep stages, sleep quality score and sleep time.
HRV: overnight measurements on your HRV, later can be seen in the fitbit app.
Resting Heart Rate: measures your heart rate during rest ( mainly sleep )
ECG app: it requires an extra app, unfortunately, I couldn't test it since it is not supported in my country
App ecosystem
Apart from the fitness app, Wear OS is the second-best watch operation system after Apple's one. There are plenty of apps in Google Play Store.
Strava - you can use it directly from your wrist without the need for a phone
Music: Spotify, Youtube Music, Shazam and plenty more apps for music, or just to use the watch as a media controller
You can send and reply to messages in most of the apps.
You can make phone calls
You can use the watch as a camera remote.
Google Wallet for payments
Google Home for managing your smart home devices
Google Maps for navigation in the city and Komoot for trails.
Google Assistant for speaking to someone when you are bored.
Huge variety of watch faces and pretty much anything you want.
Battery
First of all, this is a smartwatch which runs a full functional operation system, similar to Apple Watch OS, having this kind of OS means you can't expect the watch to last for longer, here is how the battery works for me:
During day is around 3 to 5% per hour
During sleep is around 2.5-3% per hour, or around 20% per night
During exercise with GPS: 14-18% per hour
So it is exactly the same as google advertise it: up to 24h, which means you have to charge it every day. Charging times are pretty good though, and they are what Google says as well: 30 minutes to 50%; 80 minutes to 100%.
Conclusion
The Pixel Watch works well for me, I am very happy with the GPS and HR accuracy. The battery is not great and I need to charge it every day but that is the cost of having a full-featured smartwatch. Wellbeing functions are really good. The only real downside is the lack of a good running app that supports training plans and structured workouts, which honestly can be sorted by some smart developer, and it's just a matter of time.
If you are a very active runner or biker who trains and follow training plans, I would not recommend the watch at this point, for the rest, that is a very decent first smartwatch from Google and probably the best Wear OS watch till now.